Thank you for sharing the Nakba commemoration year at nakba75action.org. Please add your event below. It will be published once reviewed by Admin.  Please share this event list and site with your solidarity network.

CDA Toronto ON – Book Launch – 2 books – One Past and One Present
May 26, 2018 @ 7:00 pm

-

9:00 pm

UTC+0

Free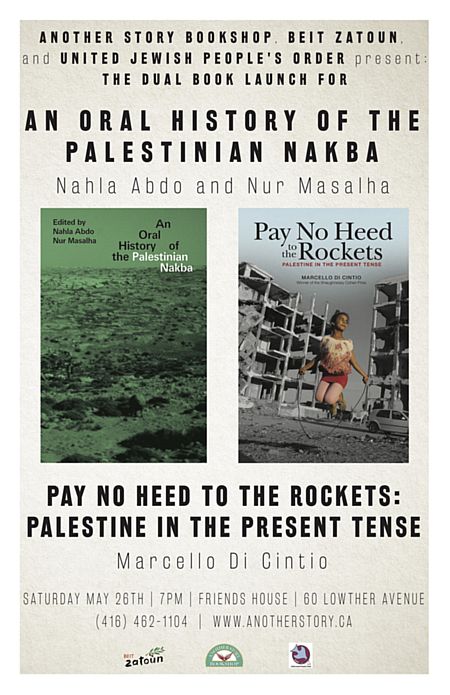 Book Launch of Two books on Palestine
One Past and One Present; Only One Reality
An Oral History of the Palestinian Nakba
edited by Nahla Abdo and Nur Masalha
featuring a reading by Nahla Abdo and contributor Chandni Desai
Pay No Heed to the Rockets: Palestine in the Present Tense
by Marcello Di Cintio
Oral History:
In 2018, Palestinians mark the 70th anniversary of the Nakba, a mass expulsion that saw more than 750,000 people uprooted and forced to flee their homes in 1948. Even today, the bitterness and trauma of the Nakba remains raw, and it has become the pivotal event both in the shaping of Palestinian identity and in galvanizing their resistance to occupation.
Efforts at preserving the memory of the Nakba have resulted in an unparalleled body of rich oral testimony, with which historians and other scholars have been able to tell the story of this epochal event through the voices of the Palestinians who lived it. This multidisciplinary collection uses oral history as a means of uncovering new insights both into Palestinian experiences of the Nakba and into the wider dynamics of the ongoing situation. In drawing together Palestinian accounts from 1948 with those of the present day, the book also confronts the idea of the Nakba as an event consigned to the past, instead revealing it to be an ongoing process aimed at the erasure of Palestinian history and memory.
Pay No Heed to the Rockets:
Marcello Di Cintio first visited Palestine in 1999. Like most outsiders, the Palestinian narrative that he knew had been simplified by a seemingly unending struggle, a near-Sisyphean curse of stories of oppression, exile, and occupation told over and over again.
In Pay No Heed to the Rockets, he reveals a more complex story, the Palestinian experience as seen through the lens of authors, books, and literature. Using the form of a political-literary travelogue, he explores what literature means to modern Palestinians and how Palestinians make sense of the conflict between a rich imaginative life and the daily tedium and violence of survival.
—
Need to know:
– Doors open at 6:50
– Free admission
– Wheelchair Accessible
– Please avoid using strong-scented products due to sensitivities
*By submitting this form, you consent to https://nakba75action.org collecting your details through this form. The details will be used in accordance with our Privacy Policy